Outlier Press www.outlierpress.com
---
Main Gate | Mi Fa-So | Thistlethwaite | Divination | Copyright
Didn't Thistlethwaite publish a chapbook?
In 2003, C.C. Thistlethwaite self-published a chapbook of selected poems. All copies were assembled by hand and signed by the author.
Production ended suddenly and permanently in 2005 as the result of an accident.
In the period of 25 months during which the book was available, a total of 37 copies were produced.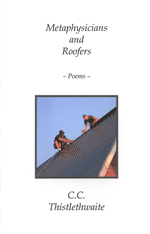 Metaphysicians and Roofers ...a chapbook of 46 poems by C.C. Thistlethwaite.
Thistlethwaite's poetic wit and wisdom can be memorable, amusing, and always thought-provoking.
Permanently out of print.

2003 28 pages

$6.50 CDN / $5.00 US
Add shipping charges.
No taxes apply.